Convert Hectare To Biswa | 1 Hectare To Biswa Calculator : Know The Details
By Investoxpert | 10 Aug 2021 | Real Estate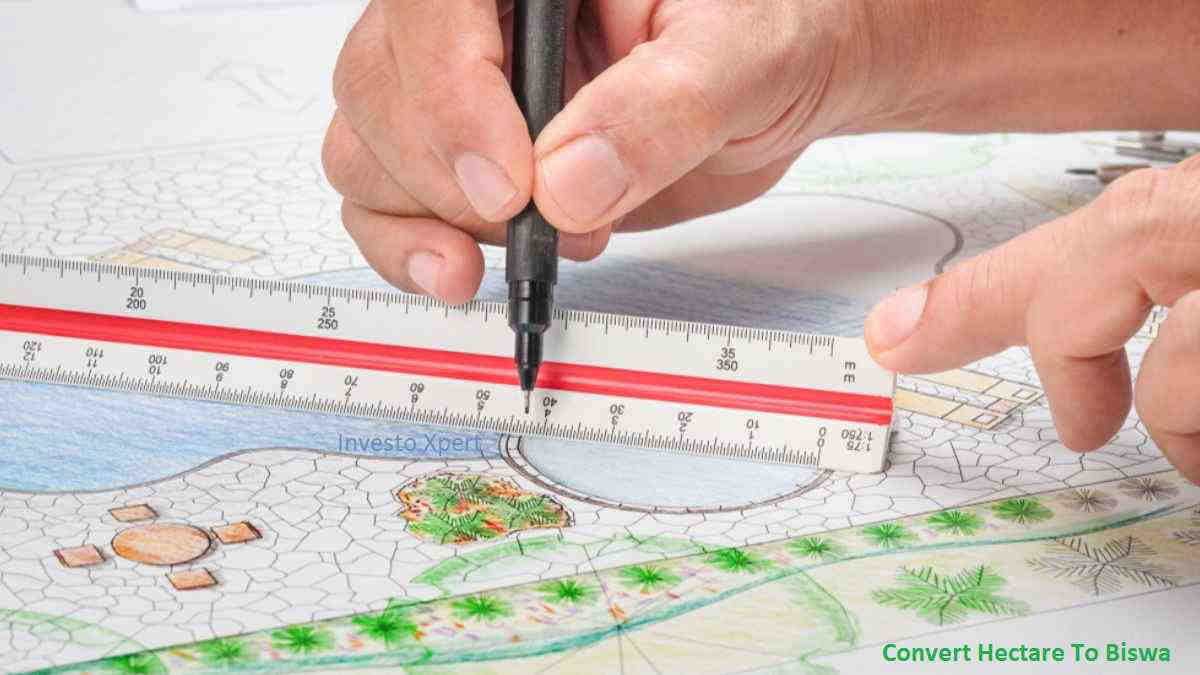 Convert Hectare To Biswa | 1 Hectare To Biswa Calculator : Know The Details,
What Is Hectare?
Hectare is a unit for land measurement that is commonly used throughout the world. Hectare is used for measurement of residential plots and land parcels while being written with the symbol ha.
It was first invented in 1795 and the term is a fusion of two Latin words, namely hect and area.
Read Also: Buy Residential and Commercial Property in Noida
Read Also: Godrej Buy 33 Acre of Land in Bannerghatta Road Bangalore
What is Biswa?
Biswa is one of the commonly used units for measuring land throughout India. It is majorly used throughout northern Indian States such as Punjab, Uttar Pradesh, Uttarakhand, Haryana and Himachal Pradesh.
The two units are mostly used for measurement of agricultural land across rural parts of these northern Indian States.
In the eastern portion of Uttar Pradesh, 20 Biswa is equivalent to 1 pucca Bigha while 10 Biswa is equivalent to 1 Kucha Bigha. Depending upon the State where it is in usage, a Biswa may work out to 50-150 square yard on average. 20 Biswa contains 27, 225 square feet as well.
Read Also: DLF One Midtown
Relation Between Hectare And Biswa
The relationship between Hectare to Biswa is not hard to figure out by all means. You should know 1 hectare to Biswa and vice versa.
1 Hectare in Biswa is equal to 79.07372209 Biswa in total.
1 Biswa is equivalent to 0.0125419104 Hectares in total. This is all you need to know for undertaking the conversion procedure successfully.
How To Convert From Hectare To Biswa?
By simple calculations you can readily convert Hectare into Biswa by multiplying the figure in Hectare by 79.07372209.
Formula for Converting Hectare to Biswa
The formula for converting Hectare to Biswa is outlined below-
Biswa = Hectare * 79.07372209.
You should keep this formula in mind for successfully undertaking and completing the conversion procedure.
Hectare to Biswa Conversion Table
Hectare----------------Biswa-------------------------Hectare to Biswa
1 hectare--------197.68430523 biswa---------1 Hectare is equal to 197.68430523 Biswa
2 hectare--------395.36861046 biswa---------2 Hectare is equal to 395.36861046 Biswa
3 hectare--------593.05291569 biswa---------3 Hectare is equal to 593.05291569 Biswa
4 hectare--------790.73722092 biswa---------4 Hectare is equal to 790.73722092 Biswa
5 hectare--------988.42152615 biswa---------5 Hectare is equal to 988.42152615 Biswa
Current Use Of Hectare
Hectare is a globally accepted unit for land measurement and is used majorly for mapping bigger plots and parcels of land. Hectare is used in several countries including India and is one of the most popular land area measurement systems.
Also Read : How Many 1 Bigha in Gaj, Calculate 1 Bigha to Gaj?
Current Use of Biswa
Biswa is a popular unit for land measurement in India. It is used majorly in northern Indian States like Himachal Pradesh, Haryana, Uttarakhand and Punjab for measuring land. Biswa is one of those local land measurement units that have stood the test of time.
1 Biswa----1/20 Bigha
1 Biswa----20 Biswansis
In the northern fringe of Uttar Pradesh, Punjab, Rajasthan, and Haryana
1 Biswa--------Pucca 151.25 square yard
Parts of Uttar Pradesh, Haryana, and Punjab
1 Biswa-------Kaccha 50.417 square yard
Some parts of Himachal Pradesh and Uttarakhand
1 Biswa-----------48.4 square yard
Himachal Pradesh and Uttarakhand
1 Biswa-------------45 square yard
Lower parts of Rajasthan
1 Biswa-----------96.8 square yard
Read Also: Square Feet To Gaj Calculator : Sq Ft To Gaj Converter
#HectareToBiswaCalculator
Lets Get Your Dream Home
I authorize InvestoXpert and its representatives to Call, SMS, Email or WhatsApp me about its products and offers. This consent overrides any registration for DNC / NDNC.