about
Godrej Woods Noida is an upcoming residential project by Godrej Properties that is landing at Sector-43, Noida. This project is uber and luxurious that offers a lifestyle like never before. These are loaded apartments with perfect views and quality specifications in a well-planned space.
Godrej Woods Price List Start From ₹ 1.22 Cr for 2 BHK Apartments and ₹ 1.85 Cr for 3 BHK Apartments.
The classic homes with modern amenities are nestling along with the luxuriant green open spaces where you will fall for nature. Godrej never fails to maintain the rarity as they ensure every unit is a masterpiece and an example of epitome. It flawlessly caters the needs and comforts to make you feel elite in true senses.
Godrej Woods Possession Date July - 2023.
Bringing the Finest abodes for you to rest in an absolutely serene and peaceful environment. Godrej Upcoming Project Noida has the most luxurious living with standards that are unmatchable. You are welcomed to take the first step towards enriching and sophisticated life. The lifestyle is a dream of many but can be owned by the choicest few.
Godrej Woods Construction Update Call for more info 8010724724
They are launching their much-awaited residential project where you can have the freedom and privacy that you ever wanted. This project is perfect for the residents who always wanted to have a connection to the city but away from the maddening city crowd. Moreover, this address completely matches the preferences of privileged living. This development is affordable with five-star services that can make you have comfort and convenience in hand.
Godrej Properties in Sector 43 Noida has spacious apartments to reside and live modern-day life. With efficient use of space, they are presenting the bigger rooms, smart in design and wide-open balconies so that cool and fresh breeze flow in and out. More than 80% of the project area is wrapped in greenery with manicured gardens and landscaped lawns where you can feel nature pristinely.
The grand entrance door from where you enter the solace nests that completes you and your family's life. Immerse in the quality living that rejuvenates every day to face the upcoming challenges. The world-class indulgences that are crafted to dwell you in the exciting and bigger world.
Push yourself to meet the actual lifestyle at Godrej new project Noida where residents have limitless happiness, joy, contentment and more every moment. Make memories that last forever in the thoughtfully designed project by architect WOW Singapore that has 600 forest trees in a total area of 11 acres land area. it offers 2 BHK and 3 BHK residential apartments uniquely placed in three iconic towers.
This project includes yoga deck, jogging track, kids play area, swimming pool, tennis court, gymnasium, clubhouse, barbeque area, well-maintained garden, amphitheatre and a lot more for every member in your family. It is secured with all safety measures and security equipments to ensure you are living safe and sound within gated community.
Godrej Properties is newly launching a project at Sector- 43, Noida that is close to prominent landmarks of the city. Well-connected to the national capital Delhi with an excellently laid network of roads. The metro station, hospitals, school, college, bus stand and other social infrastructures adds value to living that is truly enjoyable. Thus, it's time to book your Property in Noida today with Godrej that assures you timely possession and quality construction. Hurry Up!
configuration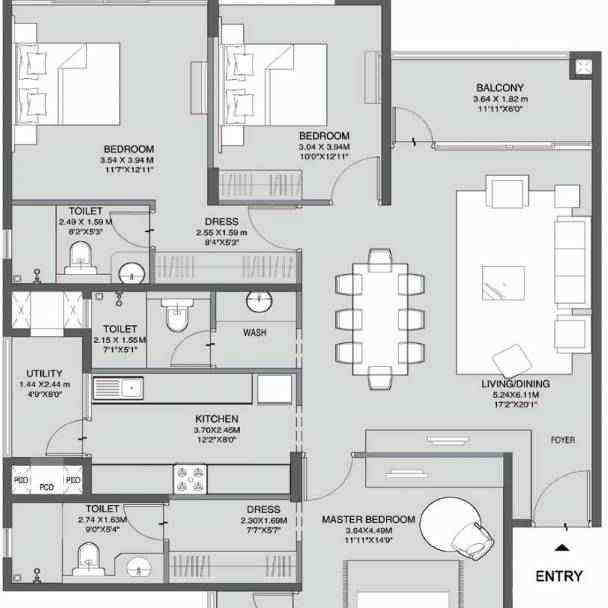 4 BHK , 3129 Sq.Ft.
Apartment
4.68 Cr
amenities
Sports
Convenience
Safety
Leisure
Environment
Furnishing
Gymnasium
Tennis Court(s)
Jogging / Cycle Track
Badminton Court(s)
Kids' Play Areas / Sand Pits
Table Tennis
Swimming Pool
Basketball
Snooker/Pool/Billiards
Squash Court
Yoga Areas
Frequently Asked Questions
What is The Price List of Godrej Woods?
Godrej Woods Price List Start From ₹ 1.22 Cr for 2 BHK Apartments and ₹ 1.85 Cr for 3 BHK Apartments.
What is The Possession Date Godrej Woods?
Godrej Woods Possession Date July - 2023.
What is The Rera Number of Godrej Woods?
Godrej Woods Rera UPRERAPRJ704730.
How Many Units in Godrej Woods?
Godrej Woods Total Number of Unit 430.
What is Total Land Area in Godrej Woods?
Godrej Woods Total Land Area 11 Acres.
What is The Construction Update in Godrej Woods?
Godrej Woods Construction Update Call for more info 8010724724.
Lets Get Your Dream Home
I authorize InvestoXpert and its representatives to Call, SMS, Email or WhatsApp me about its products and offers. This consent overrides any registration for DNC / NDNC.