Godrej Nature Plus Gurgaon
90 Lakh to 1.46 Cr
about
Godrej Nature Plus Gurgaon are the homes that are crafted to unveil the residences where health comes first. The homes to offer your happier and healthier lifestyle in the most sought out and big destination of Sohna. A location that is handpicked, completely secured to recharge you every day for pious living.
Launching the uniquely conceptualized abode that takes care of you and your family. Everything designed here keeps in mind the overall well-being of mental and physical health. It is a landmark of healthy living with providing you enhanced and enriched air to breathe. These are one-of-its-kind where you can attain fitness in a nature-embodied development.
Godrej new project Gurgaon is a host of an iconic clubhouse with avant-garde features, kids' play area, indoor sports area, restaurant, and bar where you feel the rejuvenation each and every moment. The commercial retail to fulfill your daily requirements and needs, concierge services to offer you everything at doorsteps.
Embrace a lifestyle that is entirely safe from the point you enter the city to your unit. A 5-tier security system that includes face detection access, personal bike escort, shuttle service, dog patrolling, under vehicle scanner, burglar alarm and 24*7 CCTV monitoring.
Feel hale and hearty as you step in this beautifully and thoughtfully created abodes. With extensive health park, Oxygen enriching island, landscaping with fruits bearing trees, herbs garden and fragrant plants to boost the improved atmosphere.
Godrej new launch Gurgaon gives you the opportunity to refresh your mind and revive your soul every single day that you spend here. The lily koi pond for mental relaxation, greenery-edged walk pathway, exotic water fountains and a family zone with live chess, monopoly, and scrabble.
Get ready to revive your body at the indulging activities like AG6 workout, bungee dancing introduced first time ever in NCR by Godrej Properties, music and dance academy, sports arena, water volleyball, water slide and pool area, health café and jogging trail.
It offers you 2 BHK and 3 BHK residential apartments that are spaciously planned with adequate lightings and a cross ventilation facility. The master bedroom and balconies are wider and better to enhance your each day.
This property in Gurugram is all set to deliver the spotless and pure living experiences presenting you to try Karaoke, enjoy barbeque, park to play with your pets, feed the birds and plant more trees.
Well-Connected Location Is A Bliss
This iconic and health landmark is taking shape at Sector-33, Sohna in Gurugram. It is splendid to live in a well-connected location through major linking expressways of Southern and Western Peripheral.
National highway-8 and Golf Course Extension road is another boosting factor for this destination. It is a likable place with close proximity to business hubs such as IMT Sohna, Sohna Road Commercial Belt, Unitech Business Park, Sector 41 that open doors for more employment opportunities and housing demands. In the near locality, you can easily look for prestigious schools, educational hubs and hospitals to get the best.
Thus, this Godrej Properties project is Gurugram is a value buy real estate option for all.
configuration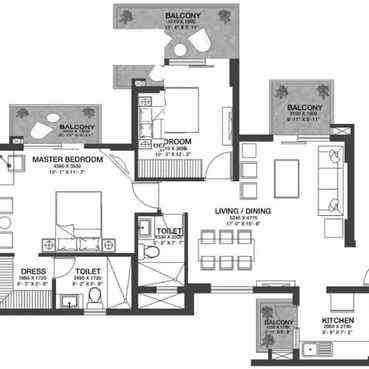 2 BHK , 995 Sq.Ft.
Apartment
92.00 Lakh
amenities
Furnishing
Sports
Convenience
Safety
Leisure
Environment
Lets Get Your Dream Home
I authorize InvestoXpert and its representatives to Call, SMS, Email or WhatsApp me about its products and offers. This consent overrides any registration for DNC / NDNC.