Top 10 Commercial Projects In Thane 2023
By Investoxpert | 10 Sep 2023 | Real Estate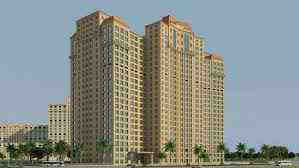 Top 10 Commercial Projects In Thane are listed in this blog to offer you the best options to choose from.
Either an investor or a buyer, it is important to understand that a location is the king for any property. Thane, being a Smart City that has already got so many developments and further infrastructures are in the pipeline.
Getting an insight of the various aspects of the city to the Internet of Things (IoT), it will make easy for the all the citizens to access everything at their convenience easily.
Why Thane is the perfect place for investing in Commercial Projects In Thane?
Thanks to the Smart City Thane, people may readily access a better lifestyle with first-rate facilities including roads, healthcare, etc. Making things future-ready will boost economic growth in the country by generating more job opportunities.
As it is a rapidly growing city in Maharashtra that comes with lucrative opportunities for investment. The strategic location as it near to the city of dreams Mumbai, and coupled with robust infrastructure development, that combinedly makes it an attractive choice for commercial investments.
So, if you are interested in Thane's commercial space, then this blog is for you as it provides information about the potential investment opportunities in this thriving market.
There are many leading real estate developers that are coming up their finest Commercial Projects In Thane.
What are the top reasons to invest in Thane's commercial property?
There are many reasons that boost the popularity of property in mumbai as well as thane. Let's have a look at those reasons:
Increasing Connectivity Opportunities
With great accessibility via roads like Ghodbunder Road, JVLR, Eastern Highway, NH8, and SCLR, Thane's proximity to Mumbai is a significant factor. For professionals looking for affordable housing alternatives outside of Mumbai, traveling from Thane to Mumbai is a feasible option. The planned metro project would improve connection even more, luring more companies to Thane.
Development of More Industrial Hub
Maharashtra's industrial heartland, Thane, is home to more than 18,000 businesses. Because there is so much industrial activity, there is a high demand for commercial projects in Thane, which presents a lucrative opportunity for investors.
Logistics Hotspot
Thane's storage and logistics sectors are flourishing, setting the city to become one of India's busiest logistical centers. As the warehouse industry grows, investing in commercial real estate in this location might yield significant returns.
Additional Income Options
Thane is a great place for producing passive income through rental properties due to its reputation as a hub for warehousing and other industrial activities. Rental properties provide stable income with low risk and little involvement from investors.
High Return on Investment
The increased demand for Commercial Projects In Thane leads to higher returns on investment. The potential for an increase in property values is expected to rise over time as Thane continues to expand.
Now, Have A Look At The Projects That A Buyer Can Buy In Thane:
1.Heer The Capittal Tree
Heer The Capittal Tree is a planned infrastructure offering modern office spaces in various sizes. It is a prominent commercial property situated on the bustling Pokhran Road in Thane.
It offers a prime location for businesses seeking an enviable address. This state-of-the-art commercial complex is a beacon of modernity, designed to cater to the diverse needs of businesses. Its strategic positioning ensures high visibility and easy accessibility, making it a preferred destination for entrepreneurs and enterprises.
Access the Eastern Express Highway in just 3 minutes, Thane Railway station in 15 minutes and many other landmarks.

2.Fenkin 9
Fenkin 9 is a commercial space located at Wagle Estate in Thane with the presence of beautifully manicured gardens, malls, and opulent restaurants nearby, it makes life hassle-free for employees to have meetings or go for a leisurely stroll to relax.
Fenkin9 was designed with the objective of delivering the ideal work life to the new age professionals. It is connecting comforts with conveniences as the connectivity to Airport, metro, highway and railways is seamless.

3.Lodha Signet Thane
Lodha Signet is another masterpiece falling under Lodha commercial projects in Thane. It offers boutique offices with top-notch design, perfect for expanding companies. Those wishing to invest in Thane office space will find it to be the ideal choice due to its unmatched income and capital growth.
This project is located at Kolshet Road in Thane, it is an excellent location for individuals looking to rent or purchase office space in Mumbai, offering easy access to Thane's entertainment centers and the airport or train station.
4.Centrum Business Square
Centrum Business Square was designed with the intention of giving young professionals the greatest work environment possible. There are adjacent stores, opulent restaurants, and beautifully planted gardens that making it one of the finest Commercial Projects In Thane.
For staff, conducting meetings or taking a leisurely stroll to recharge is hassle-free. The double-glazed façade, boutique offices, vastu compliant offices, cafeteria and many more amenities are present under one roof.
This hub is located at Wagle Estate within the near vicinity to Lotus IT park and many other social infrastructures.
5.Sunrise Corporate Park
Corporate Park Sunrise is a business venture situated in Thane West's Wagle Estate. The project comprises of a massive Square feet of land parcel and a five-story skyscraper. The building solely contains office space that is unusually spacious and well-equipped for pricey MNC offices.
The units, which will shortly be offered for sale and lease at low prices, guarantee excellent returns on investment. It is connected by the two access roads and is situated in a prominent area of Thane West.
Get quick access to the Thane Railway Station, the Eastern Expressway, and the Mumbai-Pune Expressway as they all are adjacent to the project. For brand leaders looking to build their business in the Wagle Estate area, this is the premier commercial project.
6.Hiranandani Solus
Hiranandani Solus is offering boutique office spaces at Hiranandani Estate in Thane. These are spaces that will speak for your business giving it a major boost to grow and attain success.
It is a high rise development with 26 floors with a well-connected location. Here, the buyer can enjoy a plethora of location advantages and close proximity of all necessary amenities, it provides the highest level of convenience.
This stands as the most significant and well-planned Commercial Projects In Thane.
7.Lodha Codename Great Gains
Lodha Codename Great Gains is a developing property and the top-notch workplace to achieve the goals.
The best offices in Thane for expanding businesses are at this facility. These specialty workplaces and retail spaces were created from the ground up to accommodate various business needs. It is located at Kolshet Road in Thane which seamlessly connect you to the rest of the city.
8.Lodha Supremus
Lodha Supremus is an office space where your business is destined to grow, located at Kolshet Road. Commercial real estate that is already built out offers savings of 25% over unfinished projects.
Everyone will be in awe of it due to its futuristic design and top-notch infrastructure.
Boutique offices are available in a range of sizes and can be customized to match your precise needs. The remarkable features and amenities offer a secure working environment for your staff and support the expansion of your company.
9.Sagar Nirman One Wagle
Sagar Nirman One Wagle is a newly launched commercial property in Thane that is one of the tallest business parks and most premium tower in Wagle Estate.
Located at Samata Nagar, that connects it well and offers only 10 Minutes drive from Eastern expressway and also, the Mulund railway station is nearby to this property.
10.Ekatva Onyx
Ekatva Onyx is a new opportunity from the founders of Thane's most iconic buildings in upcoming commercial hub i.e. Wagle Estate by the well-known real estate developer Ekatva Realtors developed the project. It is one of the new launched Commercial Projects In Thane that comes with offices spaces with world-class amenities.
So, these are the properties that can be considered before making the final decision. Happy investing and make the wise choice to reap rich returns in the near future.
#Commercial Projects In Thane
# Lodha commercial projects in Thane
Lets Get Your Dream Home
I authorize InvestoXpert and its representatives to Call, SMS, Email or WhatsApp me about its products and offers. This consent overrides any registration for DNC / NDNC.